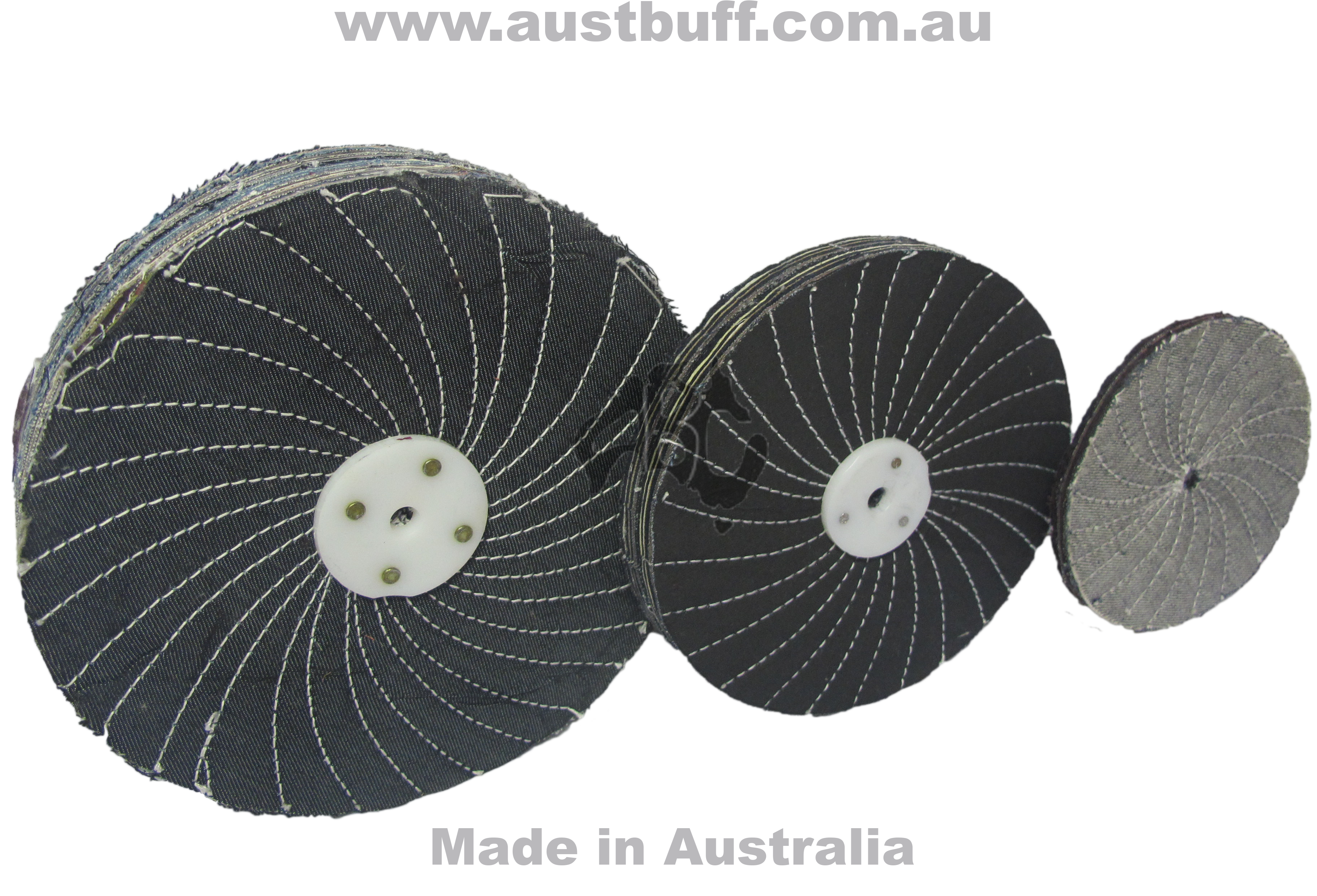 Radial stitched mops are designed to form pockets which hold compound to aid in colouring when the arcs are going the same direction. When cutting is required the mop should be reversed and be going against the arc.
Compounds generally used with this mop are green, white and blue.
This mop can be used for colouring brass, copper and zinc castings.
Bore Is Available On All Mops
RSMR: Rag Stitched Mop Radials
NW: No Washer
Other sizes available upon request
Rag Radial Stitched
| | | |
| --- | --- | --- |
| Part Number | Diameter | Thickness |
| RSMR2NW | 50mm | 12.5mm |
| RSMR2x1 | 50mm | 12.5mm |
| RSMR2x2 | 50mm | 25mm |
| RSMR2x3 | 50mm | 37.5mm |
| RSMR2x4 | 50mm | 50mm |
| | | |
| RSMR4NW | 100mm | 12.5mm |
| RSMR4x1 | 100mm | 12.5mm |
| RSMR4x2 | 100mm | 25mm |
| RSMR4x3 | 100mm | 37.5mm |
| RSMR4x4 | 100mm | 50mm |
| | | |
| RSMR6NW | 150mm | 12.5mm |
| RSMR6x1 | 150mm | 12.5mm |
| RSMR6x2 | 150mm | 25mm |
| RSMR6x3 | 150mm | 37.5mm |
| RSMR6x4 | 150mm | 50mm |
| | | |
| RSMR8NW | 200mm | 12.5mm |
| RSMR8x1 | 200mm | 12.5mm |
| RSMR8x2 | 200mm | 25mm |
| RSMR8x3 | 200mm | 37.5mm |
| RSMR8x4 | 200mm | 50mm |
| | | |
| RSMR10NW | 250mm | 12.5mm |
| RSMR10x1 | 250mm | 12.5mm |
| RSMR10x2 | 250mm | 25mm |
| RSMR10x3 | 250mm | 37.5mm |
| RSMR10x4 | 250mm | 50mm |
| | | |
| RSMR12NW | 300mm | 12.5mm |
| RSMR12x1 | 300mm | 12.5mm |
| RSMR12x2 | 300mm | 25mm |
| RSMR12x3 | 300mm | 37.5mm |
| RSMR12x4 | 300mm | 50mm |
| | | |
| RSMR14NW | 350mm | 12.5mm |
| RSMR14x1 | 350mm | 12.5mm |
| RSMR14x2 | 350mm | 25mm |
| RSMR14x3 | 350mm | 37.5mm |
| RSMR14x4 | 350mm | 50mm |
| | | |
| RSMR16NW | 400mm | 12.5mm |
| RSMR16x1 | 400mm | 12.5mm |
| RSMR16x2 | 400mm | 25mm |
| RSMR16x3 | 400mm | 37.5mm |
| RSMR16x4 | 400mm | 50mm |